Deborah Bush
Youth and employment
Deborah Bush was born and raised in Providence. She attended Hope High School, where she was placed, in the old practice of "tracking" (placing students into academic or vocational tracks), into the academic (college prep) track. She says she can count on one hand the number of Black students placed in that track.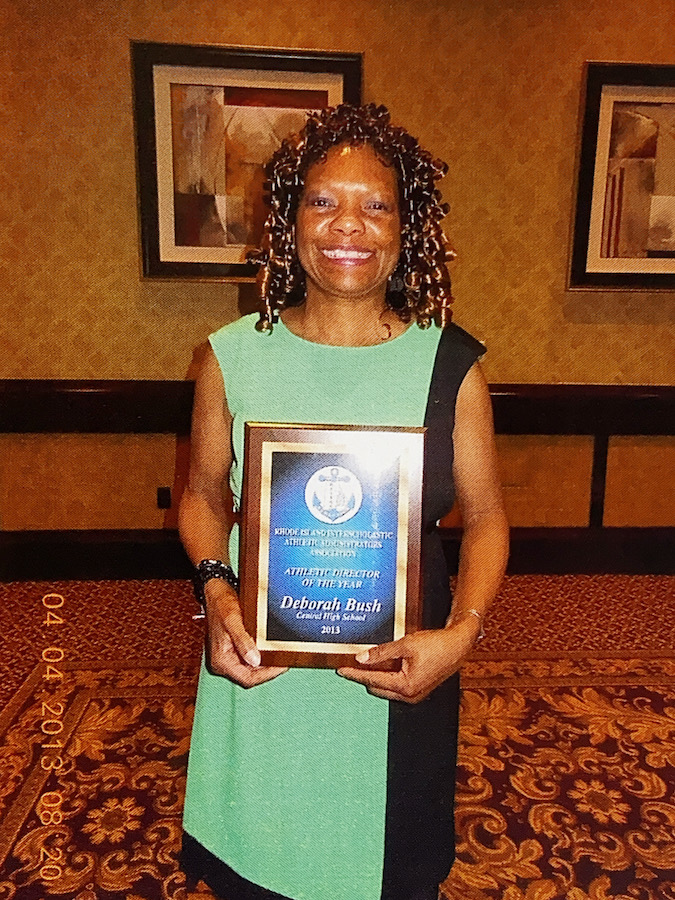 In 1968, following the assassination of Dr. Martin Luther King Jr and the uprisings that followed, the state of Rhode Island instituted the Talent Development Program at URI to encourage African Americans to pursue higher education. Deborah was one of only thirteen students admitted. She attended the University of Rhode Island, receiving a Bachelors of Science degree in Physical Education and Health. She went on to earn a master's degree in Education from Rhode Island College. In 1972, Deborah began a career as a physical education teacher and coach.
Deborah traces her patriot ancestor through her maternal grandmother, Dorothy Scott Briscoe. She credits Dorothy as a key influence in her development. Dorothy had attended private boarding school and college. Deborah is particularly proud of her grandmother as the first Black woman in Rhode Island to earn a degree in pharmacy, graduating from the Rhode Island College of Pharmacy (later URI Pharmacy School) in 1927. Dorothy encouraged Deborah and pressed her to reach high by saying "You're good, you can do this!" Dorothy also tutored students in Latin who went to LaSalle Academy.
Deborah's ancestry was a topic that interested her very much. It was not a welcome topic among her elders, however. When she prodded for information ("Were your parents slaves?"), she frequently heard back, "We don't talk about that, we don't want to know about the past. We won't talk about 'those' people."
Still, Deborah's curiosity and questioning yielded small bits of information. Because both sets of her grandparents were local, she connected with great aunts and others who knew them. Through the broader network, she picked up pieces of family lore and history, which she recorded in writing. She also prevented relatives from discarding old photos, and so became the family archivist.
For 40 years Deborah taught high school at Central High in Providence. When she began, in the 1970s, Rhode Island was actively seeking teachers of color. At that time, the students were 70% African American, while the teachers were 99% white.
Deborah taught Physical Education and Health and served as a coach for many sports, among them girls' volleyball, track, and gymnastics. During this time, she raised Dymond "on the courts and on the playing fields." In 2005 Deborah became the first African American female high school athletic director in Rhode Island, serving Central High School.
In the early years, when attending coaches' meetings, Deborah was the only woman and the only Black. Deborah says the other coaches wondered, "What is she doing here?"
Her promotion to Athletic Director meant that she had earned their respect. She had been a coach; she was always extremely thorough and organized, and she knew her stuff. She would tell them "I'm not asking you to do anything I wouldn't do." They knew that she could step in if things went wrong, and that she had their backs. Deborah says, "So they accepted me." Deborah was named 2013 Athletic Director of the Year by the R.I. Interscholastic Athletic Administrators Association. In 2012, she retired as a teacher and in 2016 as a coach.
DAR involvement and Continental Congress
Deborah followed Dymond into the DAR, joining in June 2018. When the topic turns to DAR, Deborah's pride in Dymond bubbles over: "I am so happy-glad with her, with the Daughter Dialogues and the DAR, I am happy happy-glad!"
Deborah and Dymond went to Continental Congress in 2019. Deborah says "I kept pinching myself, saying 'Am I here?'" She loved the pageantry at the convention: "I was awestruck by the pageantry. I wanted to pinch myself. I said to Dymond 'Can you believe it?'"
"As people of color I was saying, 'We deserve to be here. We should have a seat at the table. Look at us!'"
She added, "And after all these years, it (Congress) is still a tradition, it still goes on. I like the fact that they kept the tradition through all these years. It was awesome, awesome, awesome."
Deborah likes the networking and meeting many other people. She sees her role in the DAR as mainly in support of Dymond's endeavors. "I'm the supporting actress in her role."
Fun facts
Deborah's hobbies are reading and book clubs, gardening, and watching classic TV, both oldies like Perry Mason, Murder She Wrote, and other whodunnits, and Dr. Henry Louis Gates' Finding Your Roots.
Advice
To someone exploring their ancestry, Deborah says, "Talk to older relatives and capture the conversations. Find out everything you can about them."
To her 18-year-old self she would wish to say: "Ask more questions of your older relatives. Be more forceful about getting information. Press them."
~~~~~~~~~~~~~
Dymond Bush
Youth and employment
Dymond Bush was born in Providence. She attended Community Prep School for grades 4-8 and then Providence Country Day School for high school. Because she was the only black student in her class, she found PCD a bit isolating, and was glad to attend Hampton University in Virginia, one of the Historically Black Colleges and Universities (HBCU) .
Hampton was a fantastic experience for Dymond. She earned her Bachelor's in Sports Management, following in her Mom's footsteps. It was a natural choice after a childhood "on the courts and in the playing fields" as Deborah noted. When Deborah visited Dymond, they went on history-exploring jaunts to places like Jamestown and Colonial Williamsburg.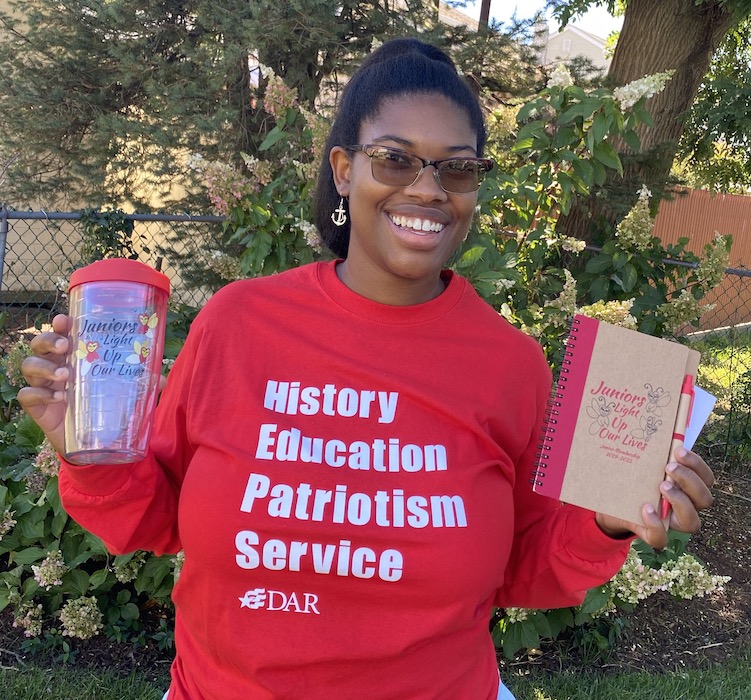 Following graduation, Dymond enrolled at the University of Georgia and earned a Masters in Sports Management. She returned to Rhode Island to work for the nonprofit College Crusade of Rhode Island as an advisor to high school students. After four years at the College Crusade, Dymond accepted a position with Scholar Athletes in Boston. With the outbreak of the pandemic, the Scholar Athletes program shut down.
The unexpected ending of the Scholar Athlete program enabled Dymond to shift to something she had been thinking about: becoming a librarian. She had enrolled in a Master's program in Library and Information Science at Simmons University three months before Scholar Athletes shut down. Her planned graduation date is May 2022. While pursuing her degree, Dymond is working as a Reference Librarian at the Coventry Public Library. The common thread for Dymond remains service: both college counseling and library science are about helping people.
Dymond is excited about her current path in Library Science, for which she has received multiple scholarships including the American Library Association's Spectrum Scholarship. She was named 2020 Outstanding Junior in the Rhode Island Independence Chapter, and she won the 2019 Massachusetts and Rhode Island Alpha Kappa Alpha Sorority, Inc. Chapter's Sincere and Rare Award. (AKA, founded in 1908, was the first intercollegiate African American Greek-lettered sorority.)
DAR involvement:
Dymond says she was always interested in history. In the 5th grade at Community Prep, her class did a family history project. Family lore held that they were related to Frederick Douglass, but her thorough research determined that they were not, only that members of a family branch were close friends of Douglass.
Because Dymond's family is small, she was eager to learn about her forebears. Her interest led Deborah to pull out her collected photos and captured history bits from her great aunts.
Dymond first learned about the DAR at age 8, when she portrayed Marian Anderson in a Black History Month show at a local community center, the John Hope Settlement House. This gave her a negative impression of the DAR. Later, she saw a reference to the DAR in the movie The Help — another unfavorable mention.
Her interest in family history brought her to genealogy workshops, where in 2016 Dymond met Elon Cook Lee, a member of the Pawtucket Chapter. Elon urged Dymond to investigate whether she was eligible to join; Dymond was delighted to discover that the DAR had become a welcoming place for women of color.
Dymond traced her ancestry on her mother's side to patriot Michael Anthony of the First Rhode Island Regiment, the first integrated regiment in the Continental Army. She and Deborah also learned that in Deborah's family, there is an unbroken line of free ancestors back to the revolution. Deborah and Dymond go to Portsmouth each year to mark the anniversary of the Battle of Rhode Island, and they visit the graves of Anthony's son and grandson — who fought in the Civil War — in Uxbridge each year to tidy up and to leave flowers. (Michael Anthony died in Smithfield; there is no record of where he might be buried.)
The DAR book Forgotten Patriots lists Michael Anthony among thousands of other African Americans and Native Americans who were enlisted in the cause of American independence. Dymond says, "Part of my mission in DAR is making sure they are not forgotten."
Learning that their roots go back so far in Rhode Island and are interwoven with the struggle for liberty has been a source of joy for Dymond and Deborah. They are proud Daughters of a revolutionary Patriot whose descendants in turn fought to preserve the cause he had fought for.
Dymond joined the DAR in January 2018. She has served as the Rhode Island Independence Chapter's Registrar and Recording Secretary and in 2020 became the Chapter Regent. She finds the networking and service aspects of the DAR to be very appealing. Dymond has paged all across New England and virtually at Continental Congress. The three core mission areas are all close to her heart. She has been able to meet women from all over the world through paging; she is an associate member of the Bahamas Chapter and – just recently — the newly chartered Phillis Wheatley Chapter in Virginia. Listen to Dymond's interview for "Daughter Dialogues" HERE.
Fun facts
Reading, gardening, and watching tennis are Dymond's ways to relax. She and Deborah have been to the US Open and to the French Open (Roland Garros), and they have visited the Wimbledon grounds. She also enjoys traveling; she and Deborah visited Senegal in 2019.
Advice for prospective members and younger people
What would she advise someone contemplating joining the DAR? "Join! There's a lot to the DAR … people don't realize it. Prospective members don't know how wide the net reaches and how there is something for everybody."
What would she advise her 18-year-old self? "Be more patient. I was always looking to the next thing. Now I try to be in the moment. Carpe Diem!"
Back to Member Spotlight page.